Passport data
Department ASIP provides an educational process of the same name specialty
1-53 01 02 "Automated systems of information processing" with specializations:
1-53 01 02 01 "Automated systems of processing and displaying information",
1-53 01 02 03 "Corporate networks and systems".
Upon completion of training graduates receive professional qualification
"Engineer Information Technology".
Forms of education
- full-time - 4 years;
- correspondence full - 5 years;
- correspondence shortened - 4 years;
- distance learning - 5 years.
Areas of work graduates:
- Industrial programming;

development of web-based application on platforms Java Enterprise Edition, PHP, .NET, Lotus;
automation of business processes by means of ERP-system «1C: Managing Industrial Enterprise 8";

- System administration;

design and maintenance of corporate networks;
diagnostics and troubleshooting computer systems and networks;

- Processing of multimedia information;

computer graphics and animation, editing audio and video data;
web-design.
Photo Department's staff in early 2010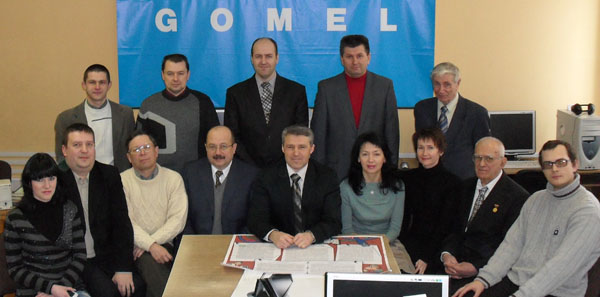 History
Department ASIP established in 1988 at the Physics Department on the basis of Department of technical means of processing of economic information Department of Economics. The first head of the department, was elected associate professor Ivanyuk Aliaxei. Since 1993, the emergence of the specialty involved Ph.D., Associate Professor Demidenko Oleg.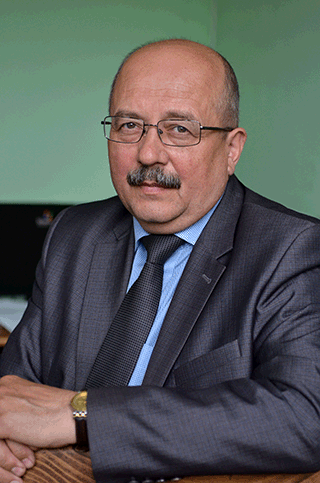 The most problematic at that time was the state of the physical characteristics of educational process and scientific research. So the first thing Oleg Mikhailovich, connecting their research and production contacts, laid basis for creating your own data center Department ASIP. Initially it was equipped with ten personal computer IBM PC/AT. Now it can bring a smile even from those who remotely familiar with computer technique. But it was excellent mass things, which outfitted with computer centers at leading enterprises Gomel region.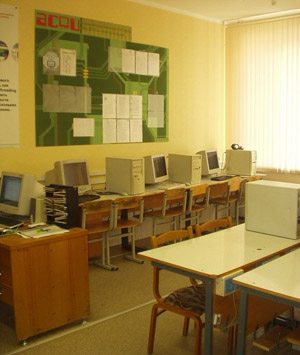 Created class became the springboard from which you have jumps to achieve new results. In 1996, members of the department adopted active part in creating a local area network Gomel State University named F.Skaryna within international program «Tempus-Tacis». Separate network segment connected computer science department ASIP. In 1997, the laboratory opened "Fault Diagnosis of Complex Systems", are still necessary stands, computers, blocks and nodes, as well as electrical equipment (oscilloscopes, multimeters, generators, etc.) necessary for troubleshooting and repairing PCs.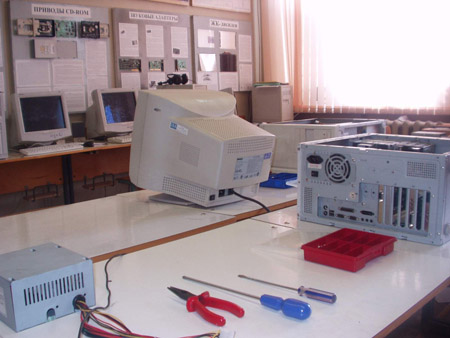 In 1999, the specialization "Automated Systems management in the electronic industry" and "Automated processing systems and information display". In 2003, with the help regional leader in the field of information technology IBA-Gomel opened the second computer center. Currently two Computing Centers brings together dozens of contemporary computers connected to a fiber-optic network university with access to global computer networks, different communication and peripheral equipment.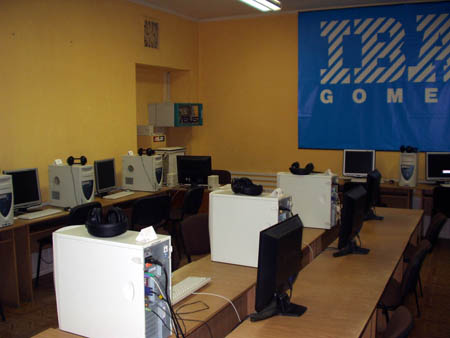 The Department focuses on research. The works for the state budget and contract scientific topics. Over the past 10 years has published over 300 scientific and educational methodological work, including 4 monographs and 7 teaching benefits with the stamp of the Ministry of Education of the Republic of Belarus. Demidenko Oleg defended his doctoral dissertation on the relevant trends - Monitoring computational process in the local area networks. Six graduate students under the leadership of Oleg Demidenko defended Ph.D. dissertation.
Department ASIP proved as one of the most caring about the professional development departments of the university. Its teachers was trained in Germany, France, Britain, Spain, the United States. They participated in performance of work within the framework of the European Community TEMPUS/TASIS to improve governance in higher education institution in the establishment and improvement of the computer center and web-site village Igauka Dobrush district together with the Swiss Agency Development and Cooperation. More than half of teachers of the Department have industrial certificates received on the various programs of High Technologies Park of Belarus.
Achieved results and the department honored by his colleagues authority were so high that in May 2007, Demidenko Oleg became vice-rector for scientific work of our university. The post Head of Department ASIP was elected Ph.D. in Technical sciences, Associate Professor Viktar Liauchuk.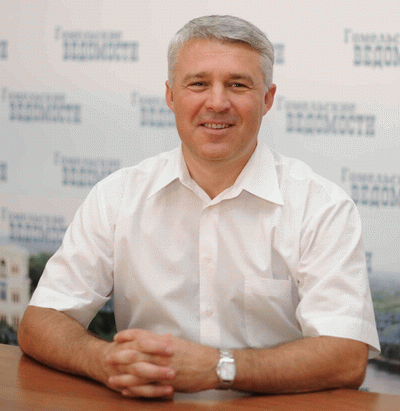 Currently, the department teaches over 450 students daily and correspondence training in two specializations: "Automated processing systems and information retrieval", "Corporate networks and systems". They are required in our country of qualification - Engineer Information Technology. In recent years, the department ASIP except for Belarusian students, students from Russia, Ukraine, Syria, Libya, Yemen.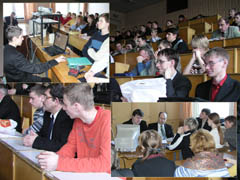 Graduate ASIP are universal experts in the field of computer technology. They can work enterprises and organizations with computer equipment, system Information Processing and Management. They are professional users of modern computer technology, know-date programming languages, operating systems and application packages programs are skilled in determining fault of the computer and repair, are able to process information in computer networks (including exit in international commercial and noncommercial networks), are able to work with modern hardware and software for processing graphic and audio information.
Graduates of the department are working in leading IT companies Gomel region: IBA-Gomel, EPAM Systems, Server. They automate business processes such giants as Gomselmash, Belarusian Metallurgical Plant, Mozyr Oil Plant, Belarusoil, Gomelenergo, etc.
The chair is a permanent collective search for the most efficient forms of work that meet the needs of time. Teachers actively include students in the processes of self - improvement and support of creative ideas. They are implemented by continued participation in the work:
- Student research laboratory "Stimulus",

- Joint training and research laboratories GSU named F.Skaryna with enterprises

IBA-Gomel,
EPAM Systems,

- International educational programs

Regional Academy for CISCO,
Academic Innovation Initiative IBM.
The main scientific work of the department ASIP are:
automation of business processes,
monitoring, diagnostics and optimization of the computational process in corporate computer networks,
automation technology modeling of complex discrete systems,
Systems and methods for processing multimedia information,
scientific and methodological support of the implementation of the educational process in the area of industrial information technology.
The teaching staff of the department performs two important scientific project. The first of these is included in the list of work to develop State System of Scientific and Technical Information of the Republic of Belarus, where the customer supports the Joint Institute of Informatics. Second project performed on the instructions of the Foundation for Fundamental Research of the Republic Belarus.
There is a post-graduate faculty for postgraduate training for specialties "Mathematical Modeling, numerical methods and program complexes" and "Telecommunication Systems and Computer networks".
Throughout the years of its operations department ASIP always cared about the interaction of science, education and upbringing of the parties pedagogical activities. Education is closely associated with developing education, expansion of students' independent work, deepening their creativity. Free, frank statement of his own opinion, respect for someone who is a lively discussion of topical issues development of information technology - this is the fertile ground on which grow highly qualified specialists in the field of information technology, formed a high corporate culture and active life position.
The Department chronicle
| | |
| --- | --- |
| 1988 | TSPEI Department of Economics Faculty was reorganized and opened in the physics faculty the department ASIP and management. |
| 1989 | Open Laboratory of automated calculations using electronic computers DCK series. |
| 1990 | The introduction of the learning process the department of modern domestic samples computing EU 1840 and EU 1841. |
| 1991 | Creating a multiplatform network segment CAAC - the EU in 1841 on the basis Technology FishNet. Protected PhD thesis Demidenko Oleg Mikhailovich specialty 05.13.13 in Moscow Institute of Engineers Civil Aviation. |
| 1992 | Open an experimental research laboratory using modern computer technology in foreign production. |
| 1993 | Specialty "Automated systems of information processing", approved 17.06.93 order number 183, the Minister of Education and Science of the Republic of Belarus. |
| 1994 | When the department began to operate post-graduate courses. |
| 1995 | Open Laboratory "Electrotechnics". |
| 1996 | The participation of specialists of the Department in the process of establishing a local area network of Gomel State University, the program "Tempus - Tacis ". Created a segment local area network based on the department Technology Ethernet. |
| 1997 | Opened Laboratory "Fault Diagnosis of Complex Systems". |
| 1998 | Open specialization "Automated system of processing and displaying information". |
| 1999 | Protected PhD thesis Aheyenko Irina on specialty 05.13.13. |
| 2000 | Opened the first stage of the data center chair. |
| 2001 | Protected PhD thesis Voruevym Andrei V. at the junction specialties 05.13.13 and 05.13.18. |
| 2002 | Open the second stage of the data center chair. |
| 2003 | Demidenko Oleg Mihailovich was awarded the title of laureate Skorininskih readings of 2004 for cycle works "Methods and means of research and adaptation of the computational process under the workload of the local area network. Protected doctoral dissertation Demidenko Oleg specialty 05.13.13. |
| 2004 | Open specialization "Corporate networks and systems." Participation in the implementation project "THE FUTURE CHALLENGES OF THE COMMUNICATIONS. PERSPECTIVES OF STUDY FROM THE EAST AND THE WEST OF EUROPE "in within the international program "TEMPUS-TACIS" together with the Belarusian State University. Thesis of dissertation Nikishaevym Vasily A. and Mary Potrashkovoy Victorovna specialty 05.13.13. |
| 2005 | Opened student research Laboratory - "Networking and Multimedia". |
| 2006 | Opening of the Research Laboratory for work dream about "Stimulus". Training of teaching staff at the National Institute of higher education in the Belarusian State University. Protected PhD thesis Bychenko Oleg Vladimirovich on specialty 05.13.13. Participation in the program "Inter-Academia 2006. |
| 2007 | Start broad cooperation with the High Technology Park. Based Computing Center faculty open educational research laboratory IVA-Gomel - GSU. Introduced in the educational process of the department ESD-system Lotus Notes Domino. Victor D. Levchuk awarded the winner Skorininskih readings in 2007 for a series of works "Software Technology toolkit issue oriented automation simulation modeling of complex discrete systems. "internship part teachers in OEM Minsk. |
| 2008 | Created branch of the international distance learning program Cisco Networking Academy training courses for CCNA and IT Essentials. Training of teachers in the OEM and BGU Minsk. Introduced in the educational process Department ESD-system "1C: Enterprise". |
| 2009 | As part of the Institute for Advanced Studies and Retraining open Specialty 1-40 01 73 "Software information systems. Opened Specialized training and research laboratory Cisco Networking Academy. Obtain a regional status for the Cisco Networking Academy. Entry into the program IBM Academic Initiative. |
| 2010 | Laboratory of Electronics, modernized and reorganized in the laboratory "Electrical and fault diagnosis of complex systems". |
History department in the faces
The history of our department - a history of the people listed in this list (show /close all photos).
In different years, the department led by:
Since the organization of faculty teaching and working processes in different years provided by the following staff:
- teachers:
ANTSUSHYNA Natalia - Teaching Assistant
BADZUKOU Yury - Teaching Assistant
CHMYKH Vladimir - Teaching Assistant
MALASHKOVA Svetlana - Teaching Assistant
PALIAKOVA Iryna - Teaching Assistant
RAKAU Vladimir - Associate Professor Ph.D. in Economical
RYBAKOVA Elena - Teaching Assistant
TALSTASHOU Vitaly - Teaching Assistant
SHYROKAU Sergey - Teaching Assistant
- laboratory:
BARANAU Igor - Head Laboratories
BARSUKOU Alexander - Laboratory worker
CHERKASAU Anatoly - Laboratory worker
DJYMA V. - Laboratory worker
KARJAVIN Alexander - Laboratory worker
KARALEVA Anna - Leading Laboratory worker
KUNINA Tatsiana - Laboratory worker
LEANENKA Vadim - Laboratory worker
MASALSKI Dmitry - Laboratory worker
PALEVIKOU Vladimir - Head Laboratories
SELITSKAYA Irina - Laboratory worker
SLUNKOVA Nina - Laboratory worker
STECKO Larysa - Laboratory worker
STRELKOU Yuri - Laboratory worker
TOKARAU Nikolay - Head Laboratories